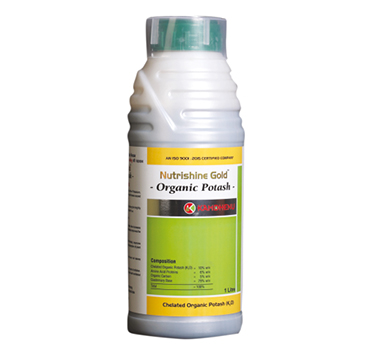 CROP CONDITIONER | NUTRISHINE GOLD (ORGANIC POTASH)
---
• Nutrishine Gold Organic Potash contributes as one of the important macro nutrients which gives strength & improves the quality of crop plants by improving their secondary & tertiary roots system.
• Nutrishine Gold improves the Water Holding Capacity (WHC) & moisture retention capacity of crop plants and protects against quality damage under adverse environmental conditions like frosts, diseases & other insect pest attacks. It improves the shelf life of crop produce including fruits & vegetables.
Key benefits experienced of Nutrishine Gold
---
– Increases fruit weight.
– Increases fruit size.
– Matures the fruits evenly.
– Increases the immunity of crop plants.
– Enhances sweetness of crop produce.
– Improves fruit shining.
---
DOSES
---
– Nutrishine Gold usual recommended dose is 1-2 ml per litre of water in foliar spray where as 3-4 ml per litre of water in drip irrigation or fertigation.
---
CROPS COVERED
---
– Nutrisine Gold can be applied on wide range of crops including all fruits, vegetables, cereals, pulses & other crops for getting better weight, size, shining & colour of crop produce.