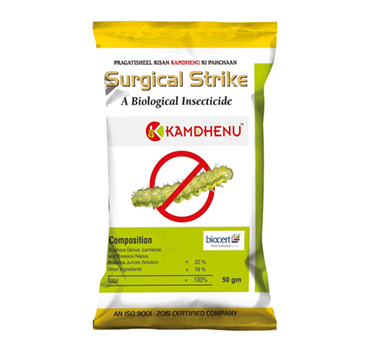 BIO-PESTICIDE | SURGICAL STRIKE (A BIOLOGICAL INSECTICIDE)
---
Surgical Strike is a plant derived insecticide toxic to insect eggs and larva, preventing pests from reaching their adult stage and hence breaks their life cycle.
Mode Of Action
---
Surgical Strike is applicable on leaves as a foliar spray, kills on contact or ingestion, and is effective during the initial stage of larval infestation after 3 days of application. It is also an effective repellent. It is friendly to non-target beneficial insects like honey bees. It also reduces toxic effect of chemicals used.
It can be applied as alternative to conventional chemical methods.
Dosage: -50 Gm/Pump
Packing: – 50 gm pouch
Effective for: – All type larva of FAW/ sundi